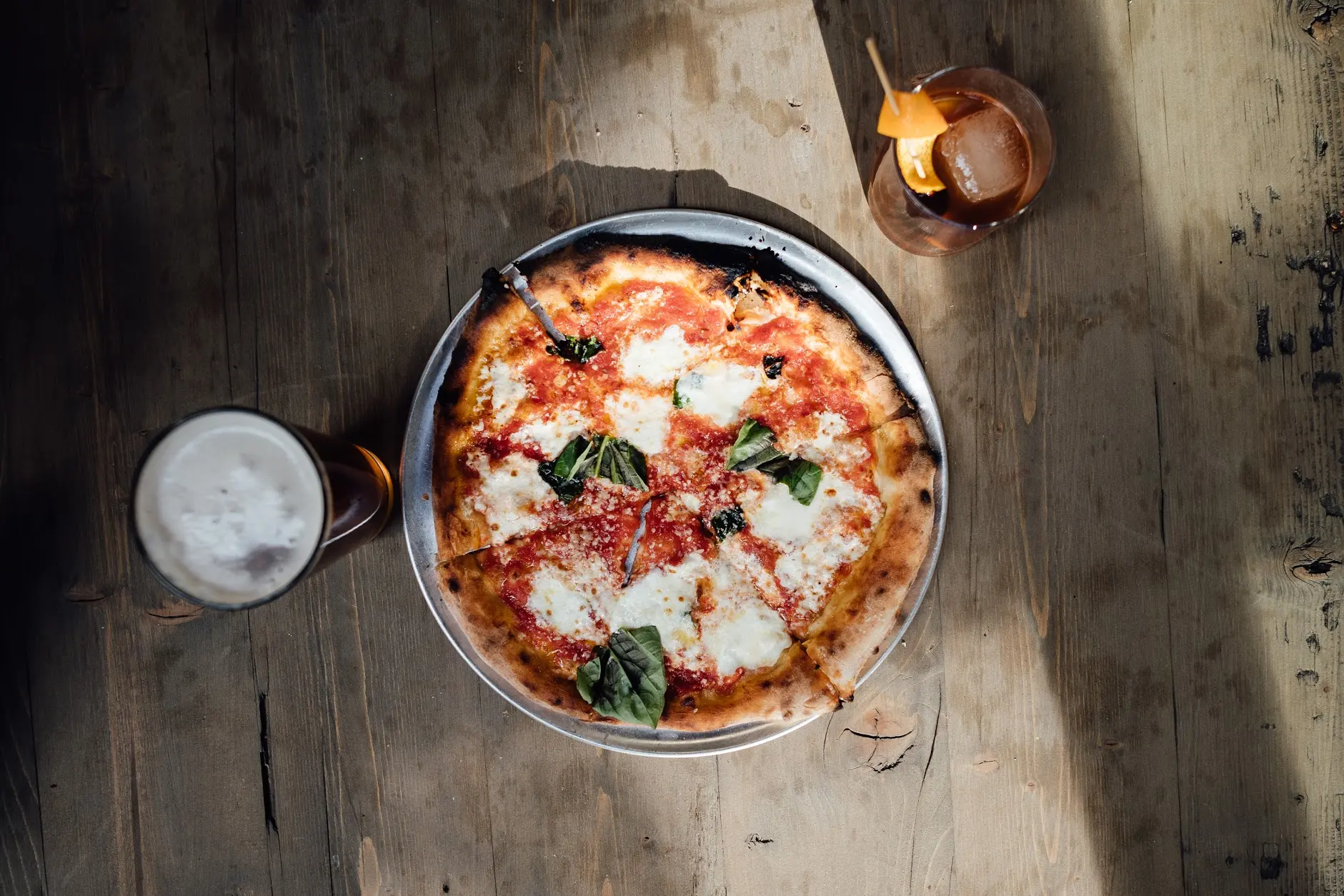 Dinner Menu
Starters
TRADITIONAL BAVARIAN PRETZEL –$12
Whole Grain Mustard, Dijon Mustard, German Beer Cheese
JALAPENO PULL-APARTS –$15
Cream Cheese, Jalapenos, Chiriboga Bleu, Chives
Add: Chicken or Bacon $3
Calabrese or Prosciutto $5
DUTCH PULL-APARTS –$16
Fontina, 4-Year Aged Smoked Gouda, Roasted Garlic Clove, House Ranch
Add: Chicken or Bacon $3
Calabrese or Prosciutto $5
AHI TUNA TARTARE –$18
Ahi Tuna, Tomato, Avocado, Green Onions, Pepitas, Serrano Aioli
GREEN CEVICHE–$19
Shrimp, Mahi Mahi, Onion, Cucumber, Avocado, Cilantro, Lime
CHARCUTERIE –$26
Prosciutto di Parma, Speck Bacon, Calabrese, 4-Year Aged Gouda, Chiriboga Bleu, Alp Blossom Cheese, Olives, Citrus Nuts, Herb Crostini
Sides
BROCCOLINI & TOASTED ALMONDS–$14
Chili, Lemon Oil, Browned Butter
TAMARI GLAZED CAULIFLOWER –$14
House Tamari Glaze, Scallions
MONGOLIAN GREEN BEANS–$14
Walnuts, Shallots, Gochujang Glaze
FINGERLING POTATOES –$14
Fire Roasted, Fines Herbes, House Fry Sauce
ROASTED GARLIC MASHED POTATOES –$14
Yukon Gold Potatoes, Garlic Confit
Add: Beer Cheese and Bacon $4
Soups & Salads
BURRATA CAPRESE –$15
Heirloom Tomato, Burrata Mozzarella, Arugula, Balsamic Reduction, Basil, Grana
Add: Chicken $4, Bacon $3
MIXED GREENS SALAD –$14
Mixed Greens, Red Apple, Candied Pecans, Bleu Cheese, Apple Cider Vinaigrette
Add: Chicken $4, Bacon $3
ROASTED BEETS SALAD –$14
Arugula, Red and Golden Beets, Chevre Goat Cheese, Cashews, Blood-Orange Vinaigrette
Add: Chicken $4, Bacon $3
CHICKEN CAESAR – $19
Smoked Chicken, Romaine Lettuce, Croutons, Grana Padano
Add: Bacon $3
ELK CHILI–$10
Grana Padano, Crema, Green Onion
Wood-Fired Neapolitan Pizzas
SAUSAGE CALZONE –$22
Weekly Special!
Mozzarella, Ricotta, Grana Padano, Calabrese, Local Italian Sausage, Mushroom, Onion, Basil
EMIGRATION –$19
Mushroom Medley, Fontina, Tarragon
MARGHERITA –$19
Fra Diavolo Sauce, Fresh Mozzarella, Fresh Basil
BBQ CHICKEN –$21
Smoked Chicken, Mozzarella, Red Onion, Jalapeno, Proprietary BBQ Sauce
THE VAMPIRE KILLER –$21
Fra Diavolo Sauce, Jalapeño, Red Onion, Roasted Garlic Cloves
Add: Buffalo Mozzarella $3
THE ELTON JOHN –$23
Fontina, Mozzarella, Arugula, Prosciutto
BEERHIVE –$23
Fra Diavolo Sauce, Mozzarella, Calabrese, Pickled Jalapenos, Honey
QUATTRO FORMAGGI - $25
Buffalo Mozzarella, Fontina, Aged Gouda, Chiraboga Bleu, Fresh Basil, White Truffle Oil
Add: Eggs and Bacon $5
BLACK TRUFFLE –$26
American Black Truffles, Fontina, Mozzarella, Grana Padano, Arugula, Lemon Truffle Vinaigrette
Slaughterhouse 5 –$30
Fra Diavolo Sauce, Fresh Mozzarella, Fontina, Calabrese, Chicken, Bacon, Prosciutto di Parma, Speck, Basil
Add to Order
Substitute Gluten-Free Smart-Flour Pizza Dough - $5
Entrees
All entrees are served with a choice of one side, soup du jour, or side salad - the chef's recommended pairings are listed with each entree.
Korean Barbecue Sticky Ribs - $27
Half-Rack Baby-Back
Sambal Glaze
Cauliflower
Wild Atlantic Salmon - $36
Tzatziki
Green Beans
Wild Pacific Halibut - $41
Tropical Fruit Chutney
Fingerling Potatoes
Pan-Seared Wild Sea Scallops - $44
Blackberry Yuzu Butter
Choice of 1 Side
Oven-Roasted Ribeye - $48
12-oz
Herbed Bone Marrow Butter
Garlic Confit Mashed Potatoes
Wagyu Zabuton – $56
8-Oz, Peppercorn Crust
Pink Peppercorn au Jus
Broccolini
Desserts
Chocolate Caramel Lava Cake - $12
Pecan Crumble, Chocolate Drizzle
Add: Vanilla or Bourbon Pecan Ice Cream $2
Bourbon Pecan Tart-$12
Candied Pecans, Chocolate Drizzle
Add: Vanilla or Bourbon Pecan Ice Cream $2
Ice Cream –$9
3 Scoops, Choice of: Vanilla, Bourbon Pecan, Strawberry
Many of our items can be made gluten free and vegan; ask your server for details.
Before placing your order, please inform your server if a person in your party has a food allergy.
Consuming raw or undercooked meats, poultry, seafood, shellfish, or eggs may increase your risk of foodborne illness. These items may be served raw, undercooked, or cooked to order.
We are Cashless! We accept all major debit and credit cards.