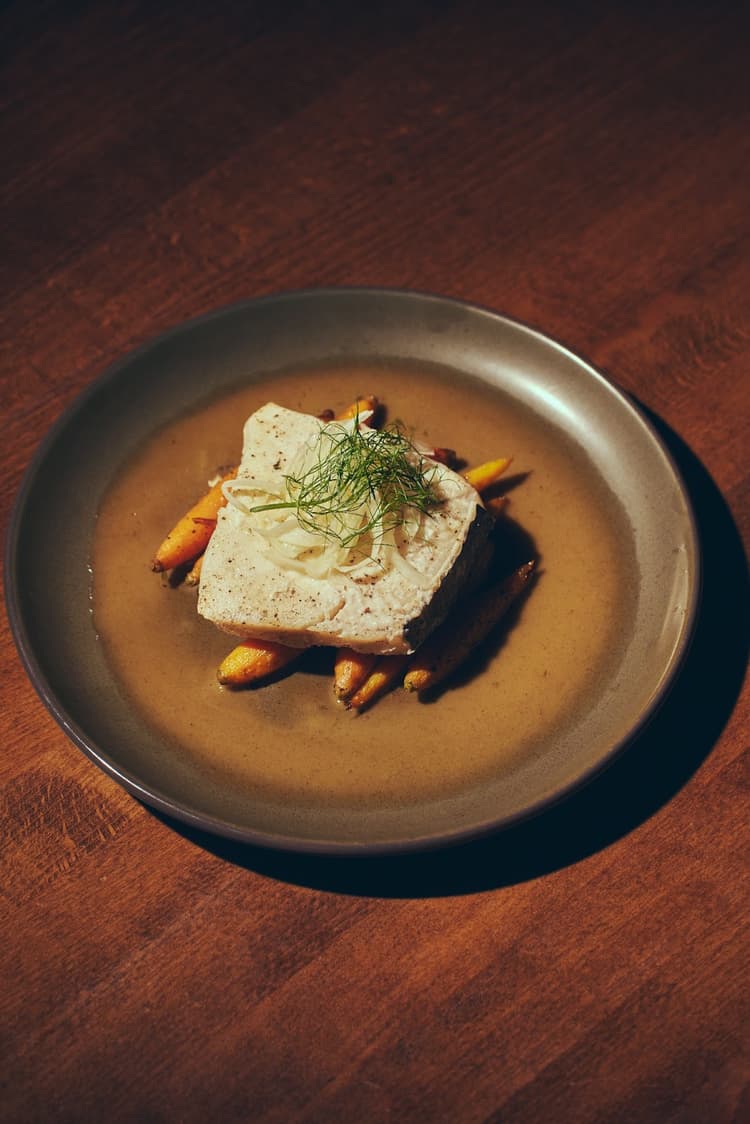 Dinner Menu
Fall 2023
Below are our regular menu items. Visit us to try our monthly specials.
Starters
BAVARIAN PRETZEL - 13
Stone Ground Mustard, Dijon Mustard, Marzen Beer Cheese
DUTCH PULL-APARTS - 22
Fontina, Gouda, Roasted Garlic, Ranch
Add: Bacon, Calabrese or Prosciutto 4
CORN SKILLET - 22 gf
Roasted Corn, Mozzarella, Piquillo Peppers, Cilantro, Corn Tortilla Chips
PAN-SEARED CRAB CAKES - 23
Red Crab, Arborio Rice, Fines Herbes, Fennel salad, Tartar Sauce
CHORIZO MUSSELS - 25
Cherry Tomatoes, White Wine, Garlic, Fines Herbes, Toasted Baguette
CHARCUTERIE –33
Rotating Meats and Cheeses
Olives, Spiced Nuts, Seasonal Jam, Pretzel Crostini
Half Size - 19
Soup & Salad
Elk Chili gf
Serrano Aioli, Mozzarella, Scallion
Cup - 7
Bowl - 11
ROASTED BEETS SALAD - 17
Arugula, Red and Golden Beets, Chevre Goat Cheese, Cashews, Red Wine Vinaigrette
Add: Pretzel Croutons - 1, Bacon 6, Smoked Salmon 9
FIG-PROSCIUTTO SALAD - 18 gf
Mixed Greens, Prosciutto, Fig, Toasted Hazelnuts, Red Onion, Gorgonzola, Fig-Balsamic
Add: Pretzel Croutons - 1, Bacon 6, Smoked Salmon 9
Entrees
Buddha Bowl - 20 gf v
Spiced Basmati Rice, Seasonal Vegetables
Choice of: Mongolian Glaze or Coconut Curry
Add: Smoked Chicken - 9, Shrimp - 11, Scallops - 22
Bison Burger - 25
Tomato, Arugula, Alp Blossom, Onion Jam, Dijon Aioli, Brioche Bun
Truffle Herbed Fries
Korean Barbeque Sticky Ribs - 27 gf
Coconut-Tamari Glaze
Garlic Confit Mashed Potatoes
Chilean Sea Bass - 31 gf
Spiced Beurre Blanc, Pickled Fennel, Pan-Seared Baby Carrots
Seafood Linguine - 36
Scallops, Mussels, Sea Bass, Charred Tomato, White Wine Broth, Fines Herbes
Toasted Baguette
King Salmon - 40 gf
Caramelized Salmon, Coconut Curry, Candied Cashews, Broccolini, Cilantro
Pork Tenderloin - 44
Lemon, Chili, Butternut Squash Puree, Pickled Apple, Brussel Sprouts, Rosemary
Filet Mignon
4-Oz - 41, 8-Oz - 53
Herbed Butter, Pink Peppercorn Demi Glace, Fingerling Potatoes
Add: Shrimp - 11, Scallops - 22
Wood-Fired Neapolitan Pizzas
MARGHERITA - 19
Tomato Sauce, Fresh Mozzarella, Fresh Basil
Add: Balsamic Reduction - 2
PEPPERONI - 20
Tomato Sauce, Mozzarella, Pepperoni
CANYON - 22
Pesto Sauce, Burrata, Fontina, Gouda, Pistachio, Rosemary, Dried Cherries, Red Onion
Add: Soppressata - 5
HERBIVORE - 22 v
Pesto Sauce, Seasonal Vegetables, Red Onion, Roasted Garlic, Shaved Almonds
Add: Fresh Mozzarella- 3
ROCKETMAN - 23
Fontina, Mozzarella, Arugula, Prosciutto di Parma
Sicilian - 25
Tomato Sauce, Mozzarella, Sausage, Calabrese, Red Onion, Mushroom
BEERHIVE - 26
Tomato Sauce, Mozzarella, Calabrese, Jalapeños, Honey
BLACK TRUFFLE - 28
Black Truffle Sauce, Fontina, Mozzarella, Arugula, White Truffle Oil
Add: Prosciutto di Parma - 3
COYOTE - 30
Tomato Sauce, Burrata, Mozzarella, Filet Mignon & Ribeye, Mushroom, Red Onion
SLAUGHTERHOUSE - 30
Tomato Sauce, Mozzarella,, Pepperoni, Soppressata, Bacon,
Sausage, Prosciutto di Parma, Fines Herbes
Substitute Gluten-Free Pizza Dough - 3
Make Any Pizza a Calzone With Ricotta & a Side Salad - 4
Desserts
Cinnamon Bread Pudding - 10
Creme Anglaise, Bourbon Caramel Ice Cream
Chocolate Cake - 12
Vanilla Ice Cream, Luzardo Cherries
Poached Pear - 14
Grand Marnier, Spiced Rum Creme Fraiche, Toasted Walnut
Before placing your order, please inform your server if you have a food allergy. Many of our items can be made gluten-free or vegan.
Consuming raw or undercooked meats, poultry, seafood, shellfish, or eggs may increase your risk of food-borne illness. These items may be served raw, undercooked, or cooked to order.