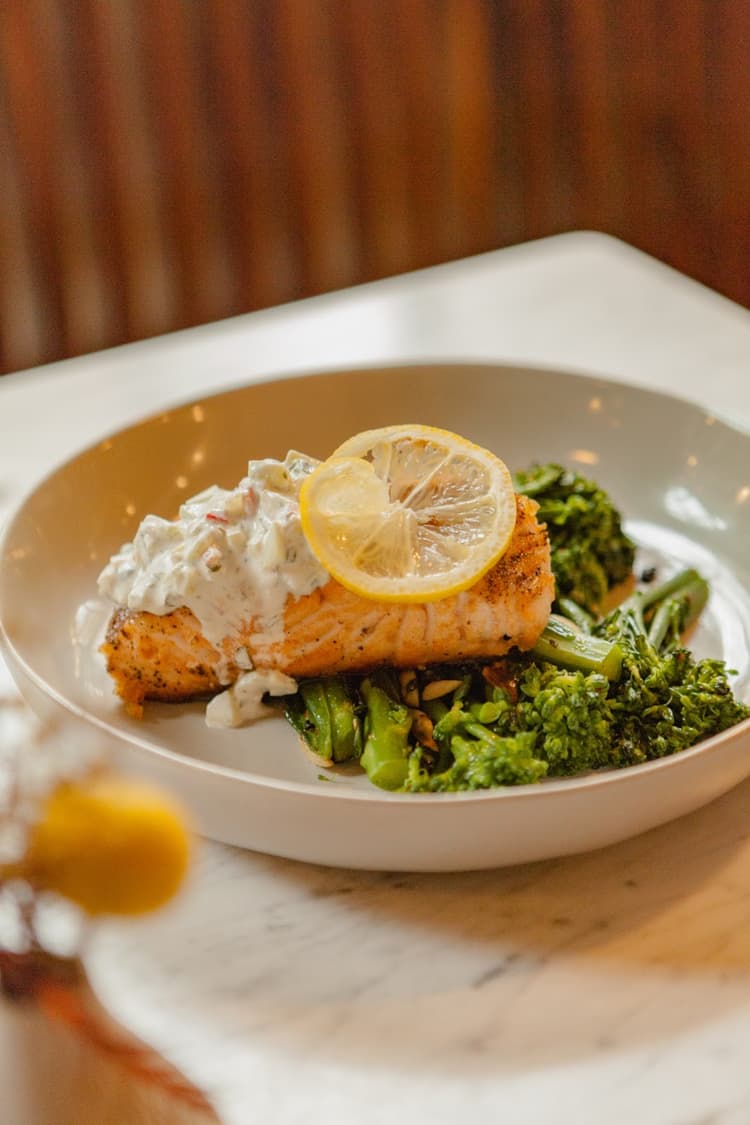 Dinner Menu
Starters
PAN-SEARED CRAB CAKES - $25
Chef's Special
Red Crab, Arborio Rice, Lemon, Fines Herbes
Fennel Salad, Lemon Vinaigrette
House Tartar Sauce
*Additional Crab Cake - $8
STEAMED CHORIZO MUSSELS -$27
Prince Edward Island
Chorizo, Shallot, Basil, Fresno Pepper, White Wine
Pesto-Herbed Baguette
TRADITIONAL BAVARIAN PRETZEL - $14
Stone Ground Mustard, Dijon Mustard, Marzen Beer Cheese
TIGER SHRIMP COCKTAIL- $15
House Cocktail Sauce, Capers, Fresh Radish
SEASONAL VEGETABLE - $16
Choice of one sharable side dish
Ask your server for seasonal options
DUTCH PULL-APARTS - $22
Fontina, 4-Year Aged Smoked Gouda, Roasted Garlic Clove, House Ranch
Add: Chicken, Bacon, Calabrese or Prosciutto $4
CHARCUTERIE –$33
Meats: Prosciutto di Parma, Speck Bacon, Calabrese
Cheeses: Alp Blossom, Bleu, Fontina
Olives, Citrus Nuts, Pretzel Crostini
Soups & Salads
FRESH VEGETABLE SOUP
Cup - $7 Bowl - $12
Green Bean, Potato, Kidney Bean
Carrot Curry Soup - $12
Cup - $7 Bowl - $12
Coconut Milk, Crème Fesh, Fried Carrots
MIXED GREENS SALAD - $16
Mixed Greens, Red Apple, Candied Pecans, Bleu Cheese, Apple Cider Vinaigrette
Add: Bacon $6, Smoked Chicken $7
ROASTED BEETS SALAD - $18
Arugula, Red and Golden Beets, Chevre Goat Cheese, Cashews, Red Wine Vinaigrette
Add: Bacon $6, Smoked Chicken $7
SMOKED SALMON SALAD - $23
House Cured & Smoked Wild Atlantic Salmon, Mixed Greens, Pepitas, Sesame, Grilled Lemon Vinaigrette
Wood-Fired Neapolitan Pizzas
Substitute Gluten-Free Pizza Dough - $3
CALZONE - $25
Grana Padano, Mozzarella, Sausage, Pepperoni, Onion, Mushrooms
Side Salad
PEPPERONI - $22
Tomato Sauce, Fresh Mozzarella, Creminelli Uncured Pepperoni
MARGHERITA - $21
Tomato Sauce, Fresh Mozzarella, Fresh Basil
EMIGRATION - $21
Shiitake & Crimini Mushrooms, Mozzarella, Fontina, Fines Herbes
CANYON - $23
Caputo's Hand-Pulled Burrata, Fontina, Gouda, Pistachio, Rosemary, Dried Cherries, Red Onion
Add: Creamy Avocado Pesto $3
Add: Sopressa $5
ROCKETMAN - $24
Fontina, Mozzarella, Arugula, Prosciutto di Parma
BEERHIVE - $26
Fra Diavolo Sauce, Mozzarella, Calabrese, Jalapeños, Honey
HERBIVORE - $25
Creamy Avocado Pesto, Broccolini, Cauliflower, Asparagus, Red Onion, Shaved Almonds
Add: Shredded Mozzarella- $3
Add: Sopressa - $5
BLACK TRUFFLE - $28
Shaved American Black Truffles, Fontina, Mozzarella, Grana Padano, Arugula, White Truffle Oil
Add: Prosciutto di Parma $3
SLAUGHTERHOUSE - $30
Fra Diavolo Sauce, Fresh Mozzarella, Fontina, Pepperoni, Soppressa, Speck Bacon, Prosciutto di Parma, Fines Herbes
COYOTE - $30
Fra Diavola Sauce, Caputo's Hand-Pulled Burrata, Mozzarella, Filet MIgnon & Ribeye, Shiitake & Crimini Mushrooms, Onions, Olive Oil
Emigration Entrees
Dishes served set w/ one side*
Buddha Bowl- $26
Spiced Farro, Seasonal Vegetables
Choice of: Sweet Mongolian or Spicy Tamari Glaze
Add: Smoked Chicken $10, Salmon $24
*Served a-la Carte*
King Salmon - $41
Sustainably Ocean Raised on Stewart Island, New Zealand
Tzatziki
Butter-Roasted Broccolini
Ribeye - $49
12-oz, Double R Ranch
Butter-Basted w/ Rosemary & Garlic
Pink Peppercorn Au Jus, Whipped Mushroom Butter
Herbed Fingerling Potatoes
Add: Lobster Tail $23
Filet Mignon
Double R Ranch
4-oz - $41 8-oz - $53
Butter-Basted w/ Rosemary & Garlic
Pink Peppercorn Au Jus, Whipped Mushroom Butter
Roasted Brussel Sprouts- Pancetta, Thyme, Balsamic, Grana
Add: Lobster Tail $23
Chef's Specials
Rotating dishes tapping into seasonally available ingredients
Wild Alaskan Halibut - $47
Pacific Northwest Coast
Thai Coconut Broth, Serrano Pistou
Mushroom Confit, Cauliflower
Pan-Seared Wild Sea Scallops - $50
Chili Oil, Sweet Peruvian Teardrop Peppers
Cannellini-Yuzu Puree, Charred Bok Choy
Add: 4-Oz Filet Mignon $21
New York Strip Steak - $56
10-Oz
Grass Fed, Niman Ranch
Butter-Basted w/ Rosemary & Garlic
Pink Peppercorn Au Jus, Whipped Mushroom Butter
Roasted Brussel Sprouts- Pancetta, Thyme, Grana
Add: Scallops $22, Lobster Tail $23
Wagyu Zabuton Steak - $62
8-Oz
Butter-Basted w/ Rosemary & Garlic
Pink Peppercorn Au Jus, Whipped Mushroom Butter
Butter-Roasted Broccolini
Add: Scallops $22, Lobster Tail $23
Desserts
Bourbon Apple Caramel Turnover - $16
Chef's Special
Mascarpone, Fuji + Granny Smith Apples, Caramel, Rosemary, Vanilla Ice Cream, Whipped Cream
Mixed Berry Turnover - $16
Vanilla Mascarpone, Strawberry, Blueberry, Blackberry, Herbed Berry Coulis, Vanilla Ice Cream, Whipped Cream
Molten Chocolate Caramel Lava Cake - $12
Pecan Crumble, Chocolate Sauce
Lemon Cream Cake - $12
Berry Coulis, Whipped Cream
Chocolate Chip Cookie Cake - $12
Chocolate Sauce, Whipped Cream
Add Vanilla or Bourbon Pecan Ice Cream to any dessert - $3 per scoop
Cakeage Fee - $25
Corkage Fee - $25
Many of our items can be made gluten free and vegan; ask your server for details.
Before placing your order, please inform your server if a person in your party has a food allergy.
Consuming raw or undercooked meats, poultry, seafood, shellfish, or eggs may increase your risk of foodborne illness. These items may be served raw, undercooked, or cooked to order.
We are Cashless! We accept all major debit and credit cards.