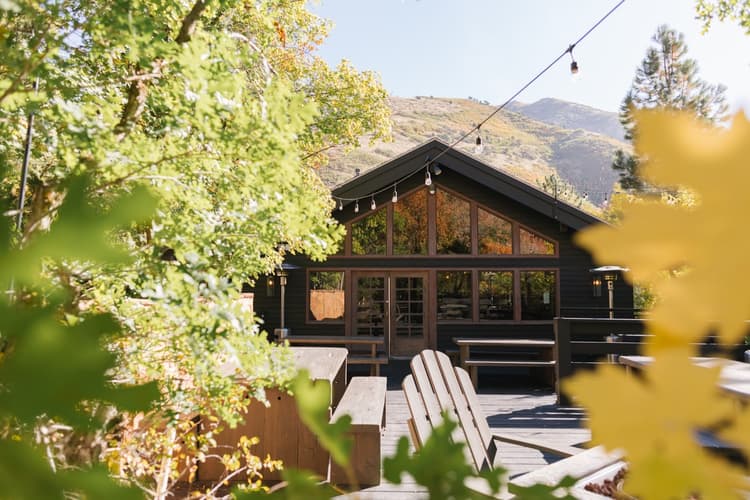 About Us
Craft Canyon Dining
Established in 2019, Emigration Brewing Company was founded to create a rustic, modern and upscale food and beverage experience. Originally built in 1960, our unique building has been renovated to provide a minimalist modern mountain space and vibe. We pay homage to the rich history of our location in Emigration Canyon, and the surrounding area, through an immersive dining experience. Dine indoors in our open-concept dining rooms full of original building aspects as well as newly renovated areas. When seasonally available, our creekside lower patio and treehouse-like upper patio connect our guests to the sights and sounds of nature in the canyon.
Our rotating food menus are inspired by seasonally available ingredients. We partner with local and regional growers to create the best possible dishes. From fresh and sustainable seafood to traditional italian ingredients, our staff strives for perfection with every bite. We honor traditional cooking methods through our wood-fired ovens and add our own mountain influence to each dish. Neapolitan-style inspired pizzas and a rustic modern take on seafood and steak dishes are our specialties. We offer four seasonal menus per year, complemented by monthly specials.
What about the brews and beverages? We have partnered with many different local breweries, distilleries and coffee roasters to create our unique drink menus. Offering locally brewed beer, distilled spirits and freshly roasted coffee, we are able to create a craft drink experience to remember. Our taps are filled with rotating craft beers. Our cocktails are inspired by those of historical measure, updated with a modern twist. Our thoughtfully curated wine selection provides something for everybody. Our freshly roasted coffee beans yield the perfect cup of coffee to enjoy with, or after, your meal. Our beverage offerings change with the seasons and are lined up with monthly drink specials.
And here's a little known fact…the state's first brewery was founded at the mouth of Emigration Canyon in 1865 by Henry Wagener. It was the largest brewery west of the Mississippi, producing upwards of 10,000 barrels of beer per year. Join us on our journey as we grow and expand to a second location in Holladay where we are building a state of the art restaurant, bar/taproom and microbrewery! We consider it our mission to celebrate the rich brewing history of Utah through traditional and new craft beer styles and to build on our love of canyon inspired dining.